I know, I'm borderline pathetic for wanting to garden so bad, but I
had
to do something with seeds and dirt. I decided to try out some mini greenhouses that I've been saving milk jugs for for weeks (I've got about 15 now, so its either been longer than I thought, or we drink a
ton
of milk).
Just a little note before I get into the how-to stuff: I strongly recommend rinsing out the jugs before storing them for weeks. You'll thank yourself when project day comes around.
So, the point of these is that you're supposed to be able to leave your early-started plants outside, because they trap what little heat they get inside, and on warm days, you can leave them open to get the sun's full nutrition. The biggest thing that turned me on to them is that they won't take up space in my itty bitty house! Since these won't be the permanent homes for any plants, I would think you could start more than one in each...but I'm definitely not positive about that.
So this is what the jugs are going to end up looking like:
I used one of these handy dandy Exacto knives to cut them. It made the process a lot easier than I thought it would be; I had been contemplating borrowing Tanner's saw until he suggested this.
That is why I keep him around. He tends to make my life a lot easier, in little ways like this.
You'll want to leave something of a hinge when you're cutting. I suppose you could cut it all the way off, but you'd have to attach the top back on somehow---most likely duct tape---so this is basically just skipping that step.
(P.S...basically any clear-ish jug will work for this)
This is the potting soil I got. It's specifically for starting veggies in, and was about $16 for the bag, which is two cubic feet. I'm not sure how many jugs this will fill, but I figured it was a good start!
So I used it to fill the bottom of a jug...I didn't pack it down too tightly.
Since I'm just experimenting (and because I'm about a month ahead of the indoor planting date anyway), I decided to try out a strawberry plant the first time around. These came from Annie's Heirlooms. They're supposed to be really productive, which I'm crazy excited about. I absolutely adore strawberries.
Its a little nuts just how small these seeds are!
Can you find it now??
By the way...don't be intimidated by my perfectly straight cut. You probably won't be able to cut in a straight line at first ;) Honestly, I don't really think it matters. The plant won't care.
I taped the other side closed, just because the wind around here is really bad. They'll all go out on the porch when they're finished, as it gets sun most of the day. The days that it gets below twenty degrees or so, I'll probably bring them back inside, because regardless of the greenhouse effect, there is definitely such a thing as weather that's too cold for plants!
I also plan to try to start tomato plants in these at some point, but I'll probably get them started closer to the end of next month. I really don't know what this plant will do, being planted
so
much earlier than it's supposed to be. I think I may plant one of these a week and date them to see what kind of difference it makes!
Why didn't I think of this when it was science experiment time in middle school?!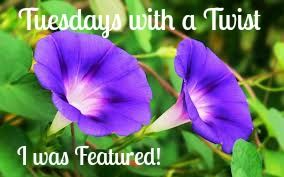 This post is hosted by Mix It Up Monday, Inspiration Monday, Tutorials and Tips, You're Gonna Love It Tuesday, Tweak It Tuesday, Growing Homemakers, Treasure Box Tuesday, In and Out of the Kitchen, Tuesdays With a Twist, Whatever Goes Wednesday, Inspire Me Wednesday, Show and Share Wednesday, Wow Us Wednesday, Creative Muster, Create It Thursday, Catch a Glimpse, Home Sweet Home, and The Gathering Spot blog hops.